Spot Bitcoin ETF by BlackRock and Fidelity renewed positive sentiment on Bitcoin, analysts expect more upside in BTC price.
Spot Bitcoin ETF application by BlackRock and launch of crypto exchange EDX Markets fueled institutional inflow in the crypto market and guided other financial giants to resubmit their Bitcoin ETF with the US SEC. According to Bloomberg Intelligence, there have been about 30 attempts for a spot-Bitcoin product as of last week.
Last week, CoinGape Media reported that Fidelity is preparing to file a similar Bitcoin ETF. On Tuesday, mainstream media reported Fidelity Digital Assets nearing a spot Bitcoin ETF filing. BTC price briefly jumps over $31,000 after the Fidelity Bitcoin ETF news. In fact, Bitcoin hit a one-year high of $31,411 on June 23.
"Despite the regulatory challenges in the US, the moves by top traditional financial institutions such as BlackRock and Fidelity signify that institutional interest and participation remain, injecting credibility and potential stability into the market," said Jaime Baeza, founder of crypto hedge fund ANB Investments.
Digital asset investment products recorded $199 million last week after nearly a year amid renewed interest from investors. Approval of a spot Bitcoin ETF will bring more cash flow to the crypto industry. In addition, Volatility Shares 2X Bitcoin Strategy ETF (BITX), the first leveraged Bitcoin futures ETF approved by the US SEC, started trading on Tuesday.
Bloomberg's analysts Elliot Z Stein, Eric Balchunas, and James Seyffart are more bullish on Bitcoin ETF approval. Market expectations shifting to August approval provides a backdrop for a potential month-long rally from here.
Bitcoin Price Expected to Hit $34000
Edward Moya, senior analyst at Oanda, said initial resistance for Bitcoin is at the $34,000 level. If a Bitcoin ETF is approved, institutional momentum could take the rally as high as $40,000.
Popular analyst Credible Crypto noted he has seen this Bitcoin price structure before, especially when the BTC price was at $10k before a major breakout. He predicts BTC price is clear for the highs at $31.5k first, and "then see if we can get that push to the 32k."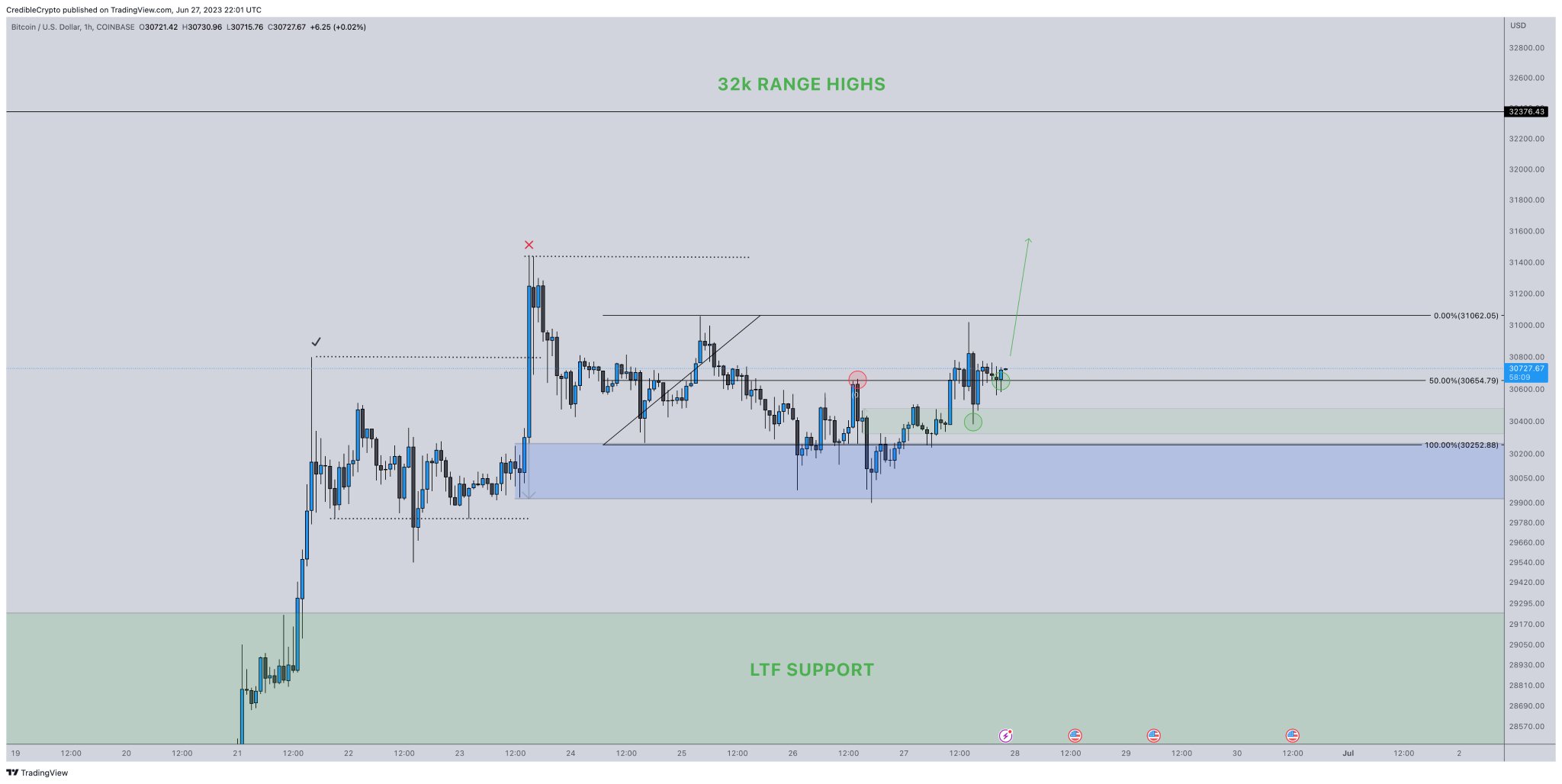 CoinGape Media also reported that the Bitcoin CME gap between $34455 and $35180 is about to get filled. Moreover, over 145k BTC options with a notional value of $4.5 billion are about to expire on Friday, June 30, but analysts remain bullish on BTC price due to an overall near-term technical advantage.