According to data from CoinMarketCap (CMC), the price of GCR has experienced an astonishing growth of 1,075,939% since mid-May. The asset was introduced in 2015, with a small surge in 2018, but has mostly remained in the red zone for the past four years.
In the last 24 hours, the price of GCR increased by 42%, reaching $3.1 at the time of writing. This surge in price, combined with a 135% increase in its trading volume, has propelled GCR to the 97th position on the crypto price aggregator.
Furthermore, GCR achieved a new all-time high (ATH) of $11.08 on July 3, 2023. Its market capitalization currently stands at $331.1 million, according to CMC data.
However, on-chain data reveals that GCR is predominantly held by only four wallets on Ethereum and 10,162 addresses on Binance Smart Chain (BSC). Some users in the CMC community chat have expressed complaints about their inability to sell their GCR tokens.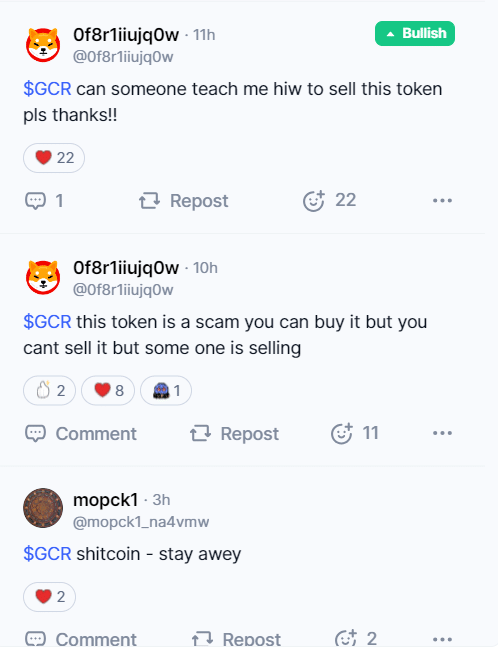 Additionally, there are concerns about the legitimacy of the surge in GCR's trading volume on CMC. On-chain data from BSCscan and Etherscan indicates that only $1,523 worth of GCR has been traded in the past 24 hours, suggesting that the reported trading volume on CMC may be fraudulent or inaccurate.
Furthermore, a user in the CMC community chat has reported difficulties in selling their GCR holdings, while others are taking advantage of the recent price surge to dump their tokens. These incidents raise suspicions of a potential scam associated with GCR.
It's important to exercise caution and conduct thorough research when dealing with any cryptocurrency, especially when there are indications of irregularities or fraudulent activities.