The price of Ethereum (ETH) has dipped slightly today, dropping to $1,954 as the cryptocurrency market as a whole rises by 0.5% in the past 24 hours.
ETH is now up by 4% in a week and by 13% in the past fortnight, following the weekend's jump beyond $1,900, which now puts it up by 83% in the last 12 months.
However, ETH holders are now hoping for the altcoin to make its long-awaited ascent to $2,000, a price it hasn't held since April.
It's unlikely to reach this price in the short term, given the current instability of the market, while other milestones – such as Wall Street Memes (WSM) hitting $12.5 million in its presale – are likely to happen first.
Prediction: Will the Ethereum Price Break $2,000? Not Before Wall Street Memes Hits $12.5 Million
ETH's indicators are in a strong position, suggesting that its rally of the past few days still has some momentum left.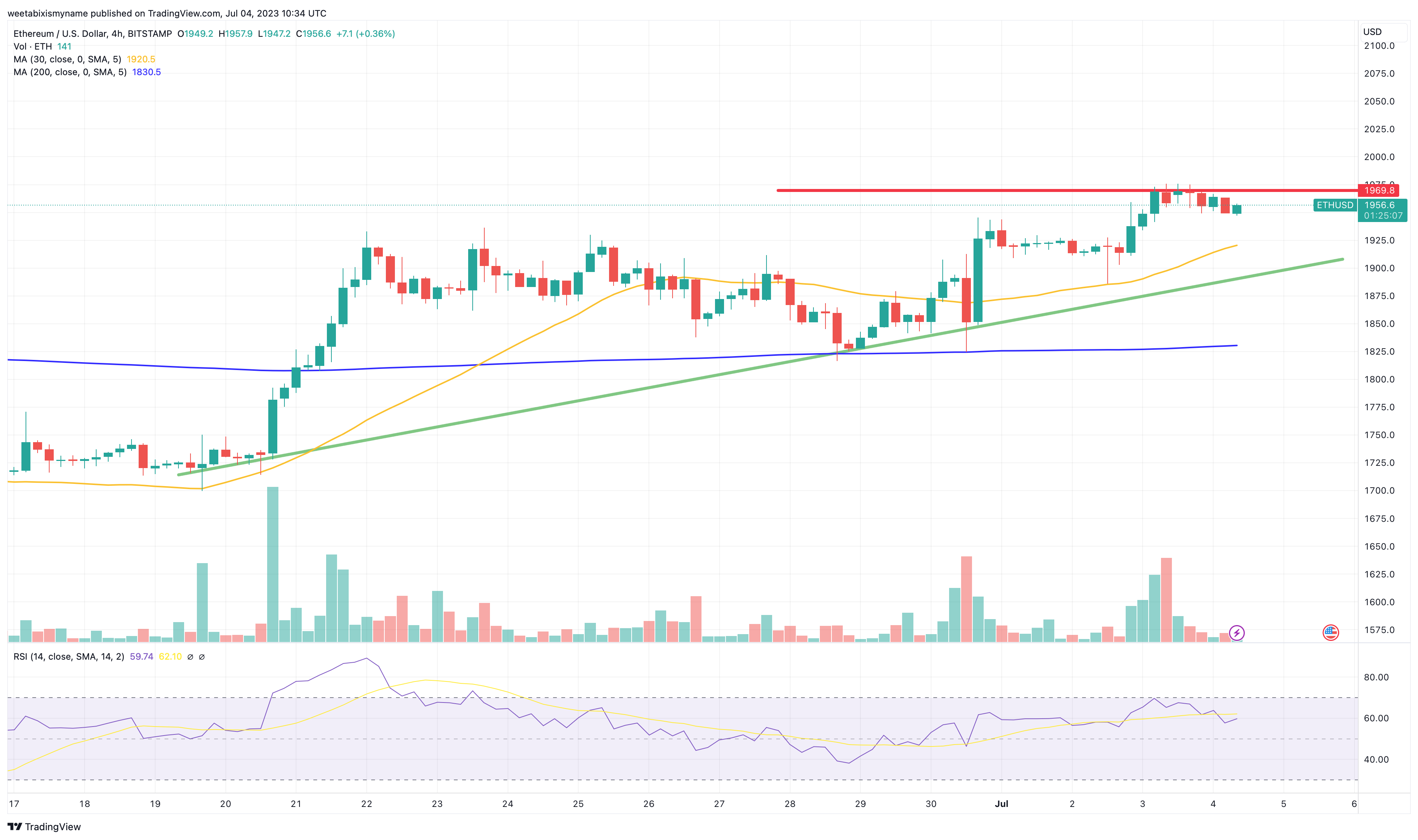 For one, its relative strength index (purple) has begun pointing upwards again after dipping a little from 70, implying that more buying pressure could enter soon.
Likewise, ETH's 30-day moving average (yellow) is still rising higher above its 200-day average (blue), a move that points towards further gains, even if a correction may be needed eventually.
It's also encouraging to see that the altcoin's support level (green) has risen considerably in the past couple of weeks, meaning that even if ETH's current rally loses steam, it's unlikely to fall particularly far.
However, because ETH's indicators have been in a high range for several days, it can't be ruled out that the cryptocurrency suffers a dip before it can break through $2,000.
As such, now may not be the exact time to buy Ethereum, with investors potentially being better off waiting until it has finished correcting.
In the meantime, traders may prefer to look to other opportunities in the market, with presales being one way to buy a new altcoin cheap before it lists on exchanges and potentially rallies.
One of the most successful presales taking place right now belongs to  Wall Street Memes (WSM), a new meme coin that has raised more than $12.4 million since launching its token offering last month.
Introducing $WSM – yep, we've gone and done it.
The community token that's flipping the Wall Street Memes game upside down! 🐂

We have 50% of the #Token supply up for grabs in the #Presale and 30% set aside for rewarding our community.🔥

Let's make some serious waves together,… pic.twitter.com/fH2TMGmglZ

— Wall Street Memes (@wallstmemes) May 27, 2023

What has helped WSM raise such a large so quickly is its association with the meme stocks movement, which was responsible for the GameStop and AMC rallies/short squeezes in 2021.
It will have a maximum supply of 2 billion WSM, with 50% of this being allocated to the presale and 30% being reserved for community rewards.
Together, these allocations will ensure that WSM's community will remain invested in the token, incentivized to continue supporting it and its price in the long term.
And with Wall Street Meme's Twitter account now boasting more than 256,000 followers, it's clear that its community is already pretty big.
This will stand it in very good stead for the future, with many of the recent crops of new meme tokens falling away quickly after initial surges, largely because they lack the followers to sustain their community.
Its presale is currently making the token available at $0.031, a price which will rise to $0.0337 by the time the sale reaches its 30th and final stage.
Anyone interest in joining the offering can do so by going to the official Wall Street Memes website and linking their crypto wallets, with WSM buyable using ETH, USDT and fiat currency.